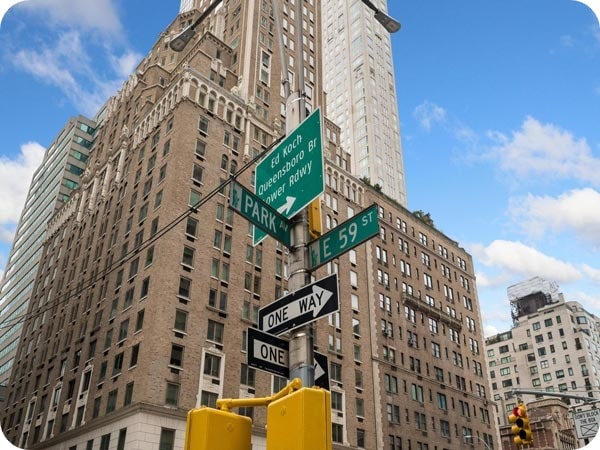 Originally designed in 1969 by William Lescaze and updated in 2019 by MdeAS Architects, 110 East 59th Street is a 37-story, Class A office tower in the heart of Midtown Manhattan's high-end Plaza District. The prestigious address sits between two of NYC's most recognizable avenues, Park and Lexington. You are moments from Manhattan's finest, from hotels to shopping and accommodation to residential and commercial space.

This building's most desirable feature is breathtaking views of the city skyline as well as Central Park and the East River. The through-street lobby features elegant, modern azul cielo marble walls contrasted with black granite floors. Matte stainless-steel fixtures and artwork by Yaacov Agam and Tony Rosenthal complete the timeless design of the striking entry. Developed by owner and tenant Jack Resnick & Sons, the building was a joint venture with Ruben Companies. It is one of many Plaza District properties known for first-class tenants that demand impeccable upkeep and management.

The Class A office building offers access to Grand Central Terminal and Penn Station, making it easy to reach for tenants and visitors alike. If you entertain out-of-town clients often, they can stay at several nearby well-appointed, first-class hotels in the Plaza District. State-of-the-art technology and security, in hand with ongoing upgrades and retrofits, include energy-efficient glazed pane windows and modernized elevator cabs complete with new finishes and a touchless destination dispatch system. Little details such as private bike racks, state-of-the-art safety and communications systems, and a full-service parking garage are just a few of the amenities that appeal to the first-rate tenants at this desirable building.

How much class A office space is available at 110 East 59th Street New York?
There is 612,180 SF of office space at 110 East 59th Street with 37 floors.
What businesses lease office space in the 110 East 59th Street building?
Corporate tenants include:
Cantor Fitzgerald

RP Management

JF Lehman

ZMC Advisors

Hunnicut & Company Inc.

Accumulus Capital Management

Schlemmer Firm

Jack Resnick & Sons

Newmark

Helix Financial Systems

Royalty Pharma

Northwell Health Labs

SMA Medical Laboratories

What is the cost of an office space lease at 110 East 59th Street?
The current average rent per square foot at 110 East 59th Street starts at over $100 per square foot (PSF). When searching for office space in Midtown Manhattan, it is important to keep in mind that several factors impact price from the floor level to the view and from the lease duration to the condition of the space.
Explore The Latest Availabilities In Plaza District.
What methods of transportation are available at 110 East 59th Street?
The Plaza District and 110 East 59th Street are easily accessible via the following:
59 Street 4, 5, and 6

Lexington Avenue-59 Street Transit Stop N, Q, and R

Lexington Avenue-63 Street Transit Stop F

Lexington Avenue-53 Street Transit Stop E and M

5 Avenue-59 Street Transit Stop N, Q, and R

You can also access the Roosevelt Island Tram and Grand Central Terminal Commuter Rail Hudson, Harlem, and New Haven lines.
Are there any tenant amenities available at 110 East 59th Street, NY?
Sweeping views of Park Avenue, Central Park, and the East River top the list of amenities at 110 East 59th Street. However, the building owners are committed to superior maintenance and high-quality, leading-edge upgrades such as:
24/7 attended lobby

11'6″ ceilings

Onsite full-service parking garage

Bike parking

How do I lease office space in the 110 East 59th Street office building?
We'd love to help your team discover the perfect office spaces available at 110 East 59th Street.

As your tenant representative, we provide a range of free services, including coordinating a tour, preparing a proposal and negotiating your lease. We are here to represent your best interests as you consider available office space options at 110 East 59th Street, offering the following services:

Conducting your office space search

Sharing relevant information such as current lease rates, market conditions, types of commercial properties, submarkets, etc.

Scheduling and taking you on office tours

Preparing lease proposals and reviewing lease documents

Negotiating the intricate details of your lease

Ensuring you see the best terms and lowest rates

Most importantly, there is no fee for our services!

Have a requirement that you'd like to discuss?

You can chat with us below or reach out to our team at officespace@noahre.com.
Explore Nearby Buildings with Office Space Available