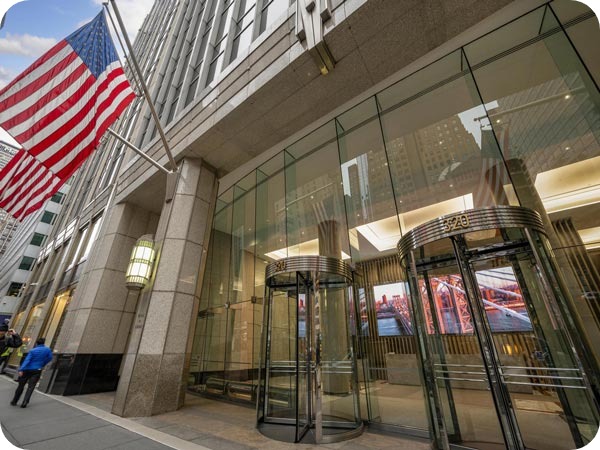 Named after current owners, Mutual of America Life Insurance, 320 Park Avenue in the Plaza District was originally designed by Emery Roth & Sons. Completed in 1960, it later underwent a complete rebuild in 1994 after sitting empty for 2-years following Mutual of America's purchase. Under the keen eye of Swanke Hayden Connell Architects, the building was stripped down to its core in 1992 to ensure it would stand up to the 1961 Zoning Resolution in NYC. As a result, it stands tall compared to other buildings in the area, offering more office space through redevelopment.

However, where tenants really see the building's worth is in the $35 million refurbishment designed to meet the heightened expectations for higher end, unique amenities post the pandemic's work from home office model. Over 25,000 square feet of interior and exterior amenities are more than enough to lure people back to work, including a completely redone lobby and café, a building gym, and a private 16th floor exclusive restaurant with a stunning terrace boasting spectacular views of Park Avenue.

Moments from the landmark MetLife Building and bustling Grand Central Terminal, it remains the headquarters of Mutual of America, with modern high-speed elevators reaching the upper levels in minutes and a full-service concierge catering to your every need. Other high-profile jobs completed by Swanke Hayden Connell include the Statue of Liberty, Trump Tower, The Continental Center and One Seaport Plaza so tenants know they are in good company.
Onsite dining includes Chipotle Mexican Grill, Little Beet, and Just Salads, with endless choices just a few minutes away at the Grand Central Market. If you're in the mood for steak and drinks, Benjamin Steakhouse is an excellent option, and nearby shopping includes Sephora, H&M, Banana Republic, and T-Mobile. Of course, you can always pop into the Newport Center. Proximity to the Grand Central Terminal makes transportation a breeze for city dwellers and commuters alike.
How much class A office space is available at 320 Park Avenue NYC?
The Mutual of America Building offers approximately 656,436 SF of office space on 35 floors.
What businesses lease office space in The Mutual of America Building?
The Mutual of America Building at 320 Park Avenue is home to a diverse selection of tenants with a large population of Financial and Banking companies, including:
Mizuho Securities USA
First Republic Bank
Bear Stearns
Mutual of America Institutional Funds, Inc.
DDR Corporation
EXL Service Holdings
Kelso & Co.
Pzena Investment Management
What is the cost of an office space lease at 320 Park Avenue?
The average rent at 320 Park Avenue comes at a premium of close to $100 per square foot (PSF) thanks to its distinct Plaza District address, where you'll find some of the most luxurious buildings in town. You can find rates decrease along with the floor numbers, which can save you as much as $25 PSF with other variables impacting price, including the lease terms, square footage, and the condition of the office space.
Explore The Latest Availabilities In Plaza District.
What methods of transportation are available at 320 Park Avenue?
Reaching 320 Park Avenue is a breeze for commuters coming in from upstate New York and Connecticut, with Grand Central Terminal just minutes away. Office workers can also use nearby subway lines, including:
B, D, F, and M at 47-50 Streets – Rockefeller Center Station

E and M at Lexington Avenue/53rd Street Station

7 at Bryant Park Station
Are there any tenant amenities available at The Mutual of America building?
A total rebuild by Swanke Hayden Connell Architects in 1992 brought the Mutual of America building up to LEED gold-certified status. Offices are flooded with natural light and boast views of Manhattan's Park Avenue and Grand Central Terminals. Amenities include:
Full-service concierge

Messenger center

Tenant-controlled air conditioning and ventilation

17 passenger elevators

Onsite retail shops and dining venues

How do I lease office space in the 320 Park Avenue office building?
We'd love to set up a viewing of the office spaces currently available at the Mutual of America Building. For no fee, Noah & Co. provides the following services as your representative:
A consultation to understand your ideal office space
Property search management
Arranging office space tours
Recommendations for your lease proposal based on market conditions
Drafting your lease proposal
Negotiating the best terms and lowest rates on your behalf
Reviewing lease documents
Managing all related steps in the leasing process until you occupy the space
Most importantly, there is no fee for our services!
Interested in learning more? Use the widget below to chat, or feel free to shoot us a note at officespace@noahre.com.
Explore Nearby Buildings with Office Space Available