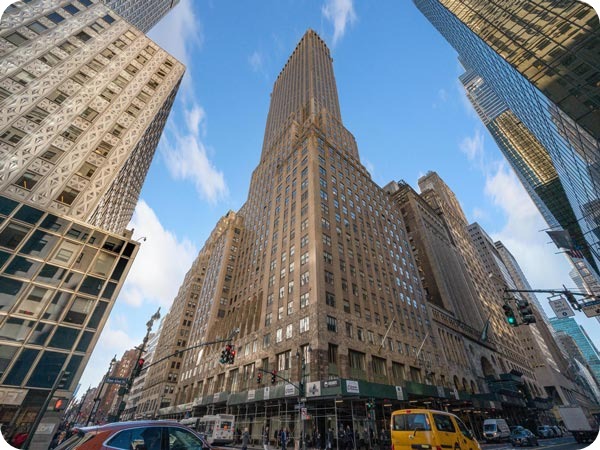 Built in 1929, the Chanin Building is a landmark of Midtown Manhattan's Grand Central submarket, offering direct access to Grand Central Station. Located on the southeast corner of 42nd Street and Lexington Avenue, across from the iconic Chrysler Building, 122 East 42nd epitomizes NYC art deco architecture with its distinct brick-and-terracotta façade and pyramidal setbacks. Named after the building's developer, Irwin S. Chanin, the building features a beautifully restored lobby with original bronze friezes. The ornate details make it one of the most celebrated art deco buildings in Manhattan.
Once the third tallest building in New York City, visitors and tenants can soar to the 54th floor in one of 21 high-speed elevators. The Chanin building offers over 750,000 square feet of Class A office space close to Staples, Amazon Go, and Bright Horizons Daycare.

There is no shortage of dining options in the immediate area, including DÙNDÚ, the Chrysler Building's Blue Park Kitchen, and the Chanin's Pokeworks and Pret A Manger. Transportation is steps away from Grand Central Terminal Commuter Rail's Hudson, Harlem, and New Haven lines and Grand Central-42 Street and 5th Avenue-Bryant Park transit stops. The Chanin Building was designated a city landmark by the New York City Landmarks Preservation Commission in 1978 and has been on the National Register of Historic Places since 1980.
Use this guide to discover what sets the Chanin Building apart, the average rent you can expect to pay for office space, and how to arrange viewings of available space.
How much office space is available at 122 E 42nd Street?
There is approximately 815,000 SF of office space available in the Chanin Building.
What businesses lease office space at The Chanin Building?
A large percentage of tenants represents the legal, financial, and media/communication sectors, including:
Ariel Property Advisors

Proner & Proner

Winston Staffing Services

Eunice Tailor & Cleaners Inc

Corporate Development Group
What is the average asking rent for office space at The Chanin Building (122 East 42nd Street)?
Average asking rents for direct office space at The Chanin Building range from $53.00 - $68.00 PSF. However, many variables impact price, including the floor, lease term, view, and the size and condition of the space.
Explore some of the latest availabilities in the building here (link out to space at Chanin)
Explore The Latest Availabilities In Grand Central.
Public transportation options near 122 East 42nd Street
Transportation near The Chanin Building includes:
Subway: 4, 5, 6, 7, and S lines

Bus: BM2, BXM1, M103, M42, M5, QM32, QM42, X37, X63

Metro-North: Hudson, Montauk Branch, Path, Port Jefferson Branch, Port Washington Branch Lines

LIRR (Grand Central Madison): Coming in Q1 2023
The building is cyclist-friendly, with secure bike storage onsite, and is in proximity to several Citi Bike docking stations. Additionally, for those who prefer to walk to work, the Grand Central area has a walkability rating of 98.
Are there any tenant amenities available at The Chanin Building?
The Chanin Building offers a variety of different office space options, including move-in ready, newly constructed, pre-built office suites with high-end finishes,. The building also offers an assortment of raw spaces that can be built to suit your needs, and "as is" spaces taken in their current condition. The upper floors offer offices streaming with natural light, and impressive full-height wood entry doors create an imposing first impression for visiting clients.
Other building amenities include:
24/7 attended lobby

On-site bike storage

Two internal lobby connection to Grand Central Terminal

21 high-speed elevators

On-site building management
How do I tour or lease office space at 122 East 42nd Street?
There are a handful of office spaces currently available at The Chanin Building and we'd love to help your team find the perfect fit.
From sourcing relevant spaces to coordinating a tour, preparing a proposal, and negotiating all of the intricate details, our team is available to represent your best interests as you explore office space options at 122 East 42nd Street.
As your representative, we provide the following services:
Managing your office space search

Informing you when the best spaces aligned with your needs become available

Educating you on current lease rates, market conditions, types of commercial properties, submarkets, etc.

Scheduling and taking you on office tours

Drafting lease proposals

Negotiating the best terms and lowest rates on your behalf

Reviewing lease documents
Most importantly, there is no fee for our services!
Interested in discussing further? Feel free to chat with us using the widget below or shoot us a note at: officespace@noahre.com
Explore Nearby Buildings with Office Space Available.