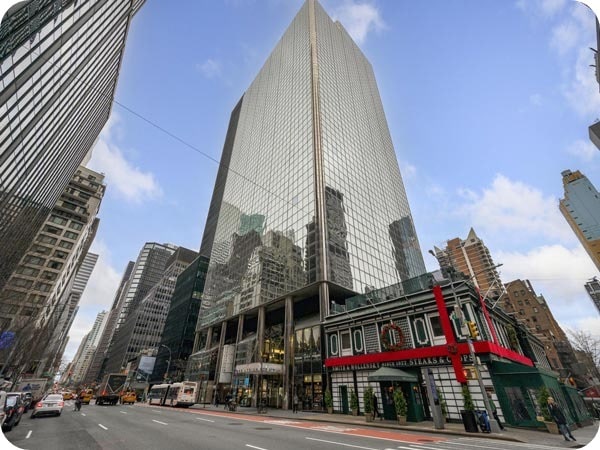 The Crystal Pavilion, located at 805 Third Avenue in the Plaza District of Midtown Manhattan, is the quintessential 1980s glass tower. Designed by Emery Roth & Sons, the building was completed in 1982 and sits conveniently on the southeast corner of Third Avenue and 50th Street. Offering 525,000 square feet of Class A office space, the most desirable upper floors overlook fabulous views of the East River and Midtown Manhattan.

An impressive three-story atrium includes 36,000 square feet of shopping and dining with gleaming, massive metal pillars flanking the dramatic escalators. Ample plants introduce greenery into the atrium with a soothing water feature creating an interesting contrast to the combination of stainless steel, glass, and granite finishes. However, it is Christian Eckhart's 5,000-pound aluminum steel sculpture suspended above a grand piano that sets the tone for this modern gem. The mezzanine level overlooks the lower floors, where ample tables and chairs welcome lunching tenants.

The recent renovations in 2019 revamped the lobby, common areas, and corridors, standing up to the discerning tastes of its typical tenants. Upgrades include 24/7 tenant access and on-site building security with accessible dining at The Chick Shop, Hokey Poke, and Gyu- Kaku Japanese BBQ. Madison Jewelers, Bona Vinos, and Alterations Dot Com Tailor Shop are a few of the exceptional retailers onsite. There's also a Staples just down the street.

805 Third is also close to high-end accommodations at the Waldorf-Astoria Hotel and the edgy Pod 51, known for its rooftop deck. Dining and shopping are always world-class in the Plaza District, including trendy spots like The Smith and 212 Steakhouse. Treats from the Éclair Bakery are a local favorite. Easy access to transportation is the final attraction for tenants headquartered at the Crystal Pavilion.


How much class A office space is available at 805 3rd Avenue, New York?
The Crystal Pavilion has a total of 597,553 square feet of office space on 31 floors.
What businesses lease office space in The Crystal Pavilion?
Many creative sectors such as media, publishing, and advertising, along with real estate, law, and financial services, call the Crystal Pavilion home, including:
Extell Development Company

Sonoma Capital Management

Carmel Partners

Kroll Bond Rating Agency

Messner Reeves

Yankees Entertainment & Sports


U.S. Marine Corps



What is the cost of an office space lease at 805 Third Avenue?
Average asking rents at the Crystal Pavilion are $87 per square foot, on par with Midtown Manhattan rates. Because of the high demand in the area, you will find many variables that could impact the price, including the duration of your lease, the condition of the space, and the square footage you require. Working with a tenant representative like Noah & Co. streamlines the process, helping you find the best office space to align with your business goals.
Explore The Latest Availabilities In Plaza District.
Transportation requirements for 805 3rd Avenue office workers.
You will find transportation to and from 805 Third Avenue is extremely accessible with the following connections within easy walking distance:
Bus lines at East 53rd Street & 3rd Avenue at Northwest Corner, 6th Avenue & 56th Street at Southwest Corner, 63rd Street & 3rd

Avenue at Northeast Corner and 59th Street–Columbus Circle

Grand Central Terminal


Subway lines E, M, 4, and 6 trains



What tenant amenities are available at The Crystal Pavilion?
This recently renovated building features many amenities, including:
24/7 tenant access

On-site building security

Three-story atrium with eating area and seating


Onsite dining and shopping



Let the Noah & Co. team find the ideal space, whether at the Crystal Pavilion or other suitable office space in Midtown Manhattan. Reach out to arrange a viewing or learn more about 805 Third Avenue office spaces available.
How do I lease office space in the 805 3rd Avenue office building?
As a trusted tenant representative, our team is dedicated to ensuring your office space needs are met. We are proud to offer a comprehensive suite of complementary services, including guiding you through a personalized tour, crafting a proposal tailored to your specific requirements, and expertly negotiating your lease on your behalf. Our primary goal is to act as your advocate and secure the best possible outcome as you explore the various office space options available at the Crystal Pavilion.

As your representative, we provide the following services:


Managing your office space search

Informing you when the best spaces aligned with your needs become available

Educating you on current lease rates, market conditions, types of commercial properties, submarkets, etc.

Scheduling and taking you on office tours

Drafting lease proposals

Negotiating the best terms and lowest rates on your behalf


Reviewing lease documents



Most importantly, there is no fee for our services!

Interested in discussing further? Feel free to chat with us using the widget below or shoot us a note at: officespace@noahre.com

Explore Nearby Buildings with Office Space Available