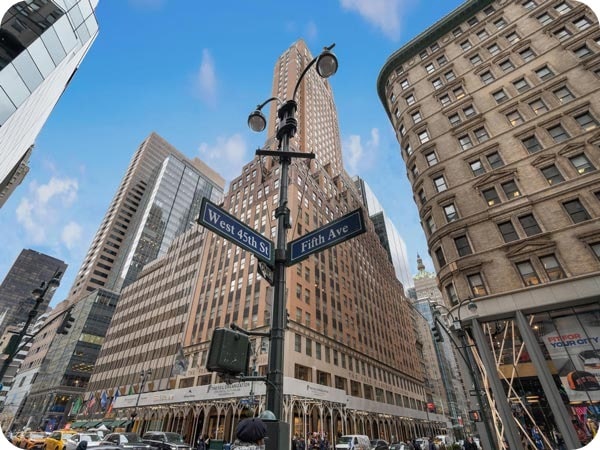 Located in the Grand Central submarket, the Fred F. French Building was a collaborative design between the French Company's in-house architecture department and Sloan & Robertson. When completed, it held two impressive Fifth Avenue titles, including the tallest building and the first building with setbacks. The architectural design reflects a shining example of NYC art deco architecture featuring multiple friezes with boldly colored suns, beehives, and all manner of winged beasts. The underlying themes tie back to Middle Eastern motifs with stunning Art Deco stylings on the façade, including stunning wedding cake tiers, limestone trim, russet-colored brick, and bronze framed shopfronts. It is perhaps best known for its elaborate collection of 25 bronze doors leading to an interior with lavish, customized chandeliers, vaulted ceilings, stunning gilded elevator doors, and intricate marble floors.

In the early 1990s, it was completely restored, earning the BOMA 1994-1995 Historic Building of the Year award and was added to the National Register of Historic Places in 2004. Currently owned by The Feil Organization, this highly desirable location at the corner of Fifth Avenue and 45th Street is now a popular spot for tourists with an appreciation for Art Deco and the building's perfectly preserved lobby earned it a designation as a NYC landmark in 1986.

The nearby highly exclusive and sophisticated Yale and Cornell clubs add further prestige to this Art Deco tower that easily attracts the same high-end tenants occupying buildings like One Vanderbilt and the MetLife Building. The Grand Central Terminal provides a nearby transportation hub, and polished professionals find solace in first-class food, drinks, and conversation at Morton's Steakhouse on the ground floor.
How much class A office space is available at 551 5th Ave NYC?
The Fred F. French Building offers a total of 430,156 square feet of office space on 38 floors.
What businesses lease office space in The Fred F. French building?
551 Fifth Avenue easily projects a highly distinguished corporate image perfectly suited to a growing list of NYC professionals and brands, including:
Denihan Hospitality Group, LLC

Zamir Equities

Hyde Park Advisors

Value Line Inc.

Marous Law Group

Fryer & Ross

Sadis & Goldberg LLP

Schoeman, Updike, Kaufman, & Gerber LLP

Inter Parfums, Inc

FRP Services & Co.

Jonathan Rose Companies

Media 3 Limited

9 Story Media

What is the cost of an office space lease at 551 5th Avenue NY?
The Fred F. French Building tends to keep up with Midtown Manhattan averages, ranging from the high $50's per square foot (PSF) to the high $60's. Keep in mind that there are several variables that impact price, including the term of your lease, how much square footage you are willing to take, and the renovations requested.
Explore The Latest Availabilities In Grand Central.
Public transportation options near 122 East 42nd StreetWhat methods of transportation are available at 551 5th Ave?
Located in the Grand Central submarket, 551 5th Avenue is close to all the convenient transportation hubs, including:
Grand Central Terminal Commuter Rail (Hudson, Harlem, New Haven Lines)

Subway lines for the 4, 5, 6, and 7 trains

Nearby Bryant Park with access to the B, D, F, and M trains

Are there any tenant amenities available at The Fred F. French building?
The Fred F. French Building at 551 Fifth is the quintessential NYC Art Deco building. Its BOMA award is a testament to the meticulous effort put into the building's restoration, which now offers the following amenities:
Fully renovated and updated lobby

Modern elevators

24/7 attended lobby

Car charging stations

On-site restaurant (Morton's Steakhouse)

How do I lease office space in the 551 5th Ave office building?
We'd love to help you find office space currently available at the Fred F. French Building, from sourcing relevant spaces to coordinating a tour, and preparing a proposal, to negotiating the intricate details of your lease.

Our team of representatives is ready to protect your best interests by offering the following services:

Managing your office space search

Informing you when the best spaces aligned with your needs become available

Educating you on current lease rates, market conditions, types of commercial properties, submarkets, etc.

Scheduling and taking you on office tours

Drafting lease proposals

Negotiating the best terms and lowest rates on your behalf

Reviewing lease documents
Most importantly, there is no fee for our services!
There is no fee for our services, so it's worth reaching out to learn more about how we can help. Feel free to chat using the widget below or shoot us a note at officespace@noahre.com.
Explore Nearby Buildings with Office Space Available