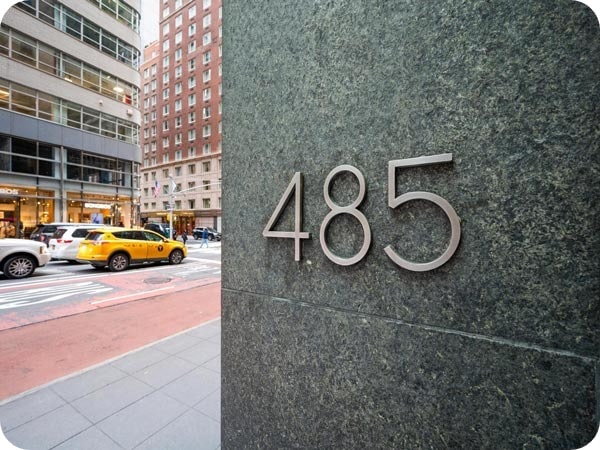 Located in the illustrious Plaza District, the Standard Security Life Building was designed by Architect J.E.R. Carpenter. Completed in 1929, it was the home of the CBS Radio Network, which occupied the top six of the building's 25 floors. Its prominent position on the corner of 52nd Street and Madison is conveniently located near Grand Central Station, steps from Rockefeller Center, and close to shopping on Fifth Avenue.

The lobby was renovated in 2001, featuring several natural stone surfaces, including elegant Portuguese limestone, distinguished black granite, and "retro" medium green marble. Distinctive wrap-around wood panels rising above the concierge desk create the feeling of movement and make an excellent visual transition from the 1929-era interiors to a more modern sense of aesthetics. However, it is the unique collection of art, including the sculpture "Girl Seated Against Square Wall" by Henry Moore, and coveted views of St. Patrick's Cathedral that really help set this building apart.

Convenient transportation along six subway lines and the North Entrance of Grand Central Station just minutes away add to the appeal of this Art Deco beauty. All offices are equipped with state-of-the-art communication systems, and tenants reap the benefits of the building's 2017 LEED EB:OM Gold Certification and ENERGY STAR designation.

The 24/7 attended lobby, electronic access via turnstiles, and a web-based visitor pass system provide state-of-the-art security to this near-century-old building. Onsite eateries are a convenience busy tenants appreciate, including Gregory's Coffee for a quick pick-me-up and lunches by Fresco by Scotto, Nearby restaurants such as Casa Lever and The Grill offer a retreat to indulge in a world-class meal, entertain clients, or sip top-shelf drinks with business associates.
How much class A office space is available at 485 Madison Avenue New York?
There is 305,675 SF of office space in the Standard Security Life Building with 25 floors.
What businesses lease office space in The Standard Security Life building?
Tenants at 485 Madison Avenue offer a diverse cross-section of industries, including a strong medical and legal professional presence as well as media and financial organizations:
Hayfin Capital

Pembrook Capital Management

American Independence Corporation

Standard Security Life Insurance

Univision Radio

Wado

XM Satellite Radio

Wxny

Makom Real Estate

Bloom Real Estate Group

Bevmax Office Centers

What is the cost of an office space lease at 485 Madison Avenue?
The Standard Security Life Building is at the higher end of asking office space rents due to its amenities and Plaza District location. Considering the many variables that impact price from floor level to the office space condition, the price per square foot is $65.
Explore The Latest Availabilities In Plaza District.
What methods of transportation are available at 485 Madison Avenue?
The Plaza District is a convenient area of Midtown Manhattan, placing 485 Madison within two blocks of the E and M, and a short walk to the B, D, and F lines. You are also just a five-minute walk to the North Entrance of Grand Central Station.
Are there any tenant amenities available at The Standard Security Life building?
Along with exceptional views of St. Patrick's Cathedral and Madison Avenue, the impressive lobby, nearby transportation and amenities make 485 Madison Avenue an excellent office space for high-profile businesses and professionals.

Amenities include:

24/7 attended lobby with new turnstiles

Modernized elevators

New chiller plant

2017 LEED EB:OM Gold Certification

ENERGY STAR designation

How do I lease office space in the 485 Madison Avenue office building?
If you're interested in office space at 485 Madison Avenue, you've come to the right place. As representatives serving tenants exclusively in the Midtown office space market, Noah & Co. can help you source relevant spaces whether you're opening your first office, looking to relocate your business, or exploring sublease options in real time.

You know your business, and we know Midtown office space, offering the following representative services:

Providing market insights based on current conditions and pricing

Managing your Midtown Manhattan office space search based on your criteria

Scheduling and walking you through office tours

Drafting the lease proposal and reviewing lease documents

Negotiating on your behalf to reach the best possible lease terms and rates

Best of all, we do not charge for our services.
You can chat with us below or reach out to our team at: officespace@noahre.com
Explore Nearby Buildings with Office Space Available