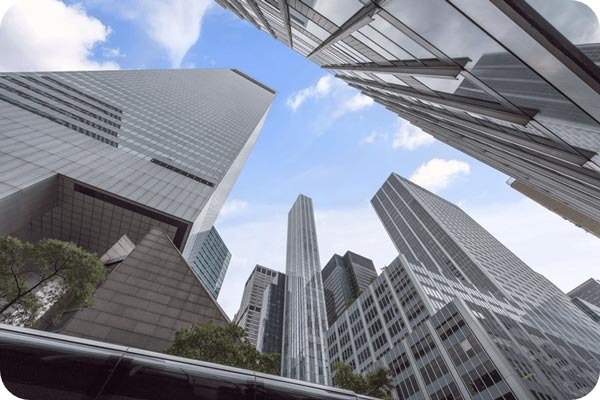 With over 242 million square feet of centrally-located office space, Midtown Manhattan is home to some of the country's largest and well-known businesses, occupying what is arguably the world's most prominent office buildings. Ranked as the most expensive office space globally, Midtown Manhattan spans from 30th Street to 65th Street between the Hudson & East Rivers, where you'll find state-of-the-art amenities, beautifully detailed architecture, edgy loft spaces, and artful interior designs throughout a diverse collection of submarkets. With hundreds of office buildings in Midtown alone, it's difficult to sort through the endless lists of office space availabilities.
To help streamline the process, the always-up-to-date guide below is specifically designed to make it easier for you to find that perfect office!
What area in New York City does Midtown Manhattan cover?
While some people view all parts of central Manhattan as "Midtown," the area is broken down into the smaller submarkets and neighborhoods including:
Bryant Park:

Centered between Grand Central and Times Square and surrounding Bryant Park itself, the area offers surprisingly affordable office space in a highly-desirable location. It includes the blocks between West 38th and West 43rd, and from Fifth Avenue to Broadway.

Columbus Circle:

Located alongside the south-western tip of Central Park, Columbus Circle is one of Midtown's largest submarkets, spanning from Seventh Avenue to Eleventh Avenue and from West 54th Street to the northern tip of Lincoln Center at West 65th Street. This oversized traffic circle on 8th Avenue and 59th Street, is surrounded by impressive commercial spaces where you'll find a mix of stockbrokers, esteemed publishers, banks, and business consultants.

Garment District:

Bordering Penn Plaza to the north and east, the area stretches from West 30th to West 42nd, and from Fifth Avenue to Ninth Avenue - the Garment District is a hotspot for boutique companies and startups less concerned about amenities and instead focused on finding discounted space in one of the area's many loft buildings. Once home to over 50% of NYC's garment plants in the roaring 1920's, the area still remains true to its name, devoted to all aspects of the fashion and garment industries.

Running from East 38th in the South to East 47th in the North, and from Second Avenue to Fifth Avenue, Grand Central has some of the most affordable Class A Midtown office space for rent in Manhattan. Great vintage, art deco, and retro buildings appeal to businesses of all types and sizes, and the growing amount of non-traditional space attracts boutique gyms and medical professionals who once favored the Upper East and West sides.

Hell's Kitchen:

Although the nickname "Hell's Kitchen" is associated with an infamous "biker" gang, the neighborhood's transformation in the 90's has made it a desirable landing spot for businesses on a tight budget. The neighborhood covers the western portion of Midtown; from West 42nd Street to West 54th Street, and from Eighth Avenue to the Hudson River.

Hudson Yards:

Spanning from West 30th to West 42nd Street, and from the West Side Highway to Eighth Avenue, Hudson Yards' transformation over the last 10 years has made it the cultural center of the "New West Side." Its futuristic design includes 14 acres of public plazas, attracting industry leaders to its highly desirable midtown office space in NYC.

Midtown East:

A larger area that covers the entire east side of Midtown including several different submarkets, Midtown East runs from the southern tip of Grand Central at East 38th Street to the northern tip of the Plaza District at East 65th Street, and includes a portion of Rockefeller Center and the U.N. Plaza submarkets. The area is home to some of the most recognized buildings in the world, including the Empire State Building, the Chrysler Building, and most recently, One Vanderbilt.

Midtown West:

Midtown West covers the entire west side of Midtown, encompassing a number of smaller submarkets, including portions of Rockefeller Center, Hudson Yards, Hell's Kitchen, Penn Plaza, and the Garment District. The area stretches from the southern tip of Penn Plaza at West 31st Street to the northern tip of Columbus Circle at West 65th Street, and includes most of Midtown west of 6th Avenue.

Murray Hill:

This "boutique-centric" submarket runs from East 30th Street to East 38th Street and from Fifth Avenue to the East River. Its eclectic, trendy office space is ideal for startups and smaller businesses as well as companies looking for office space near a desirable residential area. In proximity to the United Nations, this submarket is also home to many elite professionals and diplomats while attracting corporate tenants such as Tommy Hilfiger.

Park Avenue:

The rows of iconic Class A office buildings along Park Avenue from East 45th Street to East 63rd Street, are often set back from the sidewalk, and feature beautifully designed lobbies, and large patios.

Penn Plaza/Penn Station:

Home to Penn Station, the busiest transportation hub in the Western Hemisphere, Penn Plaza ranges north from West 28th Street to West 36th Street, and from Seventh Avenue in the east to Ninth Avenue in the west. A vibrant hub of Manhattan, over 500,000 workers travel to this area of Midtown daily, where a wide variety of businesses take advantage of the lower rents and perfectly functional, professional office space available.

Running along the south-eastern tip of Central park, the Plaza District spans from East 47th Street to East 65th Street, and from First Avenue to Avenue of the Americas (Sixth Avenue). Home to some of the most expensive buildings in Midtown, the area appeals to polished businesses and professionals across a host of industries including successful tech firms like IBM that can afford to pay top-dollar for the modern looking, luxe buildings in the area.

Port Authority:

Over 45 million square feet of industrial and commercial space are available in the area surrounding the Port Authority Bus Terminal, a neighborhood that runs from West 38th to West 43rd Street, and from Seventh Avenue to the Lincoln Tunnel entrance (between Ninth and Tenth Avenues). Its central location on the west side makes Port Authority popular with trade, transportation, and economic development-related businesses.

Rockefeller Center:

Offering 2.5 million square feet of Midtown office space, Rockefeller Center is an iconic NYC landmark and home to the most visited Christmas Tree in the world each year. While not incredibly large, the area running from West 46th to West 53rd Streets, and from Fifth to Seventh Avenue, is packed with hi-rise office towers.

Times Square:

Located in the very center of Midtown, this area spans from West 42nd to West 54th Street, and from Avenue of the Americas (Sixth Avenue) to Eighth Avenue. With its convenient location and proximity to most public transportation lines, both startups and established businesses such as Morgan Stanley, Thomson Reuters, and The New York Times Company have made Times Square their headquarters.

U.N. Plaza:

Located at the eastern tip of Midtown, spanning from East 38th to East 49th, and from the East River to Second Avenue, U.N. Plaza's proximity to Grand Central Terminal and the United Nations makes this submarket a hot spot for international businesses and embassies.
Learn More About Midtown Submarkets
How many square feet of office space is available for rent in Midtown Manhattan?
Of the roughly 541 million square feet of office space in Manhattan, Midtown is home to almost half, with approximately 242 million square feet of space.
What is the average cost to lease office space in Midtown Manhattan?
In your search for Midtown Manhattan office space, expect to find some significant pricing differences not only from building to building, but also from floor to floor within any given property. There are tons of factors that impact office space pricing; from the submarket and a building's availability/demand to the landlord's finances. Generally, the asking prices will differ across the various classes of office space in the following ranges:
Class A: from $65 to $300+ per square foot (PSF)
Class B: from $40 to $65 PSF
Class C: from $20 to $40 PSF
Breaking down the different classes of buildings and office space
NYC office space buildings are broken down using a letter graded class system based on the quality and design of the property:
Class A: Top of the class
Class A office buildings are where you will find the sleekest (and most expensive) office spaces in the market. Often featuring floor-to-ceiling windows and tenant-friendly amenities, these properties generally offer larger floorplates and breathtaking views, as well as 24/7 attended lobbies and high-end finishes in both common areas and private suites. Some of the of the most notable class-A buildings in Midtown include:
The Chrysler Building

1 Vanderbilt

425 Park Avenue

The GM Building

The Metlife Building

Axa Equitable Center

Worldwide Plaza

The Grace Building

Citigroup Center

JPMorgan Chase Building

The New York Life Building
Class B: Value & Quality
These mid-sized office buildings were often built in the first half of the 20th century and tend to be located on side streets throughout Midtown. Significantly more affordable than their Class A counterparts, common characteristics of Class B buildings include part-time door attendants and large usable windows within the building's individual suites.
Class C: Functional and Affordable
These loft-style buildings are found on side streets throughout Midtown and are ideal for companies on a tight budget and in need of smaller floorplates. Upgrades to Class C properties have become more popular as landlords look for different routes to attract prospective tenants, although discounted pricing is often the main appeal to spaces found in these properties. Class C buildings are located throughout Midtown, but are more likely found in Midtown West.
Key Terms in a Commercial Office Lease
Commercial office lease agreements can be tricky for most folks to understand, with pages of information using industry-specific jargon. Some of the most important components of your lease include:
Base Rent:

This is the rent you pay, calculated using the size of your space (square feet) and the price of your space (per square foot)

Additional Rent:

Can include add-ons such as real estate taxes, operating expenses, electricity, cleaning or maintenance, and in many class B/C buildings, charges for water/sprinklers

Good Guy Guarantee ("GGG"):

This legal clause ensures the tenant gives proper notice when unable to meet the lease's obligations and leaves the space in good condition. By signing a GGG, Tenants are protected from landlords seeking the full amount owed on the lease balance.

Raw vs Pre Built Space:

A raw office space is one that has been stripped down to the core building structure; all doors, walls, ceilings and floors are removed and the space can be rebuilt exactly as a tenant would like it configured. Given the time required to build out an office space, many landlords will offer pre built suites - newly built space that includes a standard building installation and is generally ready for immediate move-in. Rent Abatement: The language used in a lease agreement to reflect the amount of free rent negotiated.

Rent Escalations:

An annual increase to a tenants office space rent during each year of the lease term, ranging from 1% - 4% increases over the previous years base rent.
Office Space Agreements
When it comes to renting office space in Midtown, there are three main routes that a company can explore:
1. Lease
A lease is an agreement between you (the tenant/lessee), and the landlord or owner. This is the most traditional type of agreement, one where a tenant is contracted directly with the building's owner/landlord. During each month of a lease term, the tenant pays rent directly to the landlord. Prior to signing, a lease is open to negotiation, allowing you to customize your lease draft based on what the landlord is willing to offer.
2. Sublease
A sublease is an agreement between you, the "subtenant," and the current tenant or leaseholder, the sublandlord (or sub-lessor). Unlike a direct lease with the landlord, a sublease is a separate agreement between two companies that is bound by many of the terms included in the original lease signed between the current tenant and landlord. You might consider a sublease as they are generally offered by a motivated tenant who needs to cut their losses and is offering the space at a discount. In a sublease, the subtenant makes rent payments to the sublandlord, who then pays the landlord for the duration of its lease term.
3. Commercial Office Space Condominium
Unlike a lease or sublease, the purchase of an office space condo provides companies with the ability to purchase their office space outright. Owners of office space condos have complete control over their space. Due to tax incentives and condo regulations, commercial condos are popular amongst non-profit organizations and medical users.
Lease vs. sublease in Midtown: Which one is right for your business?
NYC office space buildings are broken down using a letter graded class system based on the quality and design of the property. Here are the pros and cons of each:
Sublease Pros:
Cost: Subleasing is often 10% to 35% cheaper than comparable space in the same building.
Flexibility: Sub-lessors might be more flexible, willing to rent out a small chunk of their overall available space, which works well for smaller businesses and startups that may only need space for a small group of people.
Move-in ready: In most cases, the office is ready to move in, with all the basics required to be fully operational, including furniture, wiring, and communication equipment.
Shorter terms: Subleases are often available with shorter lease terms making it a more attractive option for companies uninterested in making a long-term commitment.
Sublease Cons:
Pricing Increases: Any pricing discounts associated with a sublease agreement end once the sublease term expires; companies will be asked to pay standard market rates for the building on any direct deal once the sublease ends.
Lease renewal: Subleasing could leave you officeless once the term ends, as the Sublandlord may look to reoccupy the space or the Landlord may have alternative plans for the building.
Indirect repair requests: It could be more difficult to fix issues with heating, plumbing, etc., if you are dependent on the sublandlord as opposed to the building owner.
Furniture: Depending on the terms negotiated within the sublease, the Sublandlord may maintain ownership over the furniture and equipment once the sublease ends and choose to keep it in their possession.
Sublandlord Work: Subleases are almost always offered in "as-is" condition; most sublandlords are not looking to perform additional work to the space.
Lease Pros:
Control: A lease can be fully negotiated - you have full control over the terms agreed to.
Landlord Work: Landlords can perform work/build a space for a tenant to suit their specific needs and office space requirements; you have much more flexibility on the layout and design of your space.
Availability: At any given time, there is a significantly larger amount of office space available for direct lease than for sublease, providing you with many more options to choose from.
Lease Cons:
Cost: Direct leases do not have the pricing discounts that subleases in the same building class may offer.
Terms: While they've become a bit more flexible in recent years, landlords will often require tenants to sign longer terms (5+ years) for direct space.
Furnishing/Wiring: Direct space is generally delivered completely empty; it is the tenants responsibility to furnish and wire the space before moving in.
Lease Application: Your desirability as a tenant is based on the scrutiny of the landlord.
Where is the best office space in Midtown Manhattan, NYC?
Every business will have its own idea of what the best office space means to them. If affordability is your main concern, side street office space in the Garment District might be your best bet. If pricing isn't a concern and luxury is a primary consideration, a Class A building on Fifth Avenue likely fits the bill.
Here are some of the most popular buildings with office space available in Midtown Manhattan right now:
Grand Central




The Chanin Building:
122 East 42nd Street: Class A building built in 1929 with 750,000 SF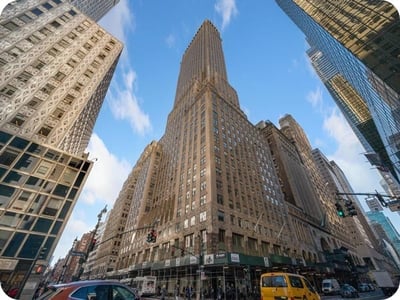 Designed by Sloan & Robertson, the Chanin Building epitomizes Art Deco architecture with a brick-and-terracotta design and age-relevant setbacks required in NYC at the time. Across from the Chrysler Building and connected to Grand Central Station, this renovated building is an official NYC landmark housing law firms, finance companies, and businesses from the media and communication sector. Learn more about The Chanin Building.
Two Grand Central:
140 East 45th Street: Class A Building built in 1982 with 664,000 SF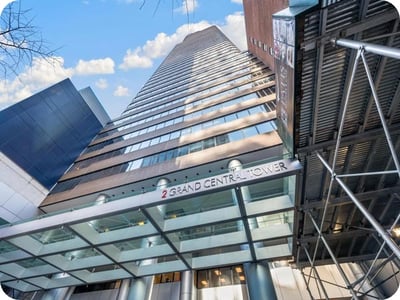 Designed by Schuman Lichtenstein Claman & Efron, Two Grand Central Tower is a preferred location for several hedge funds and financial services. The views overlooking the skyline and the East River, in hand with renovations in the 2000s, have kept this building relevant for today's businesses. Click here to learn more about the Two Grand Central Tower.
Fred F. French Building:
551 5th Avenue: Class A building built in 1926 with 430,165 SF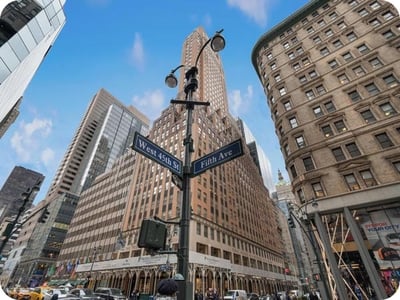 Initially designed by Sloan & Robertson, this is another shining example of NYC art deco architecture. It was once the tallest building on Fifth Avenue, with 38 stories. In the early 1990s, it was painstakingly restored, earning the site the BOMA 1994 -1995 Historic Building of the Year award. An interesting mix of media, real estate, education, and financial service companies share space in this building. Learn more about the Fred F. French Building.
One Grand Central Place:
60 East 42nd Street: Class A building built in 1930 with 1,291,533 SF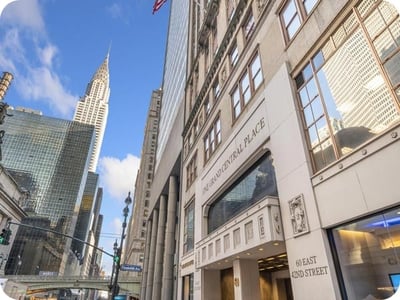 John E. R. Carpenter designed this neo-gothic building. Once known as the Lincoln Building, One Grand Central Place provides offices for accounting and law firms, financial services, and a few creative agencies. The 55-story office tower underwent complete renovations in 2008, upping the "it" factor for potential tenants. Click here to learn more about One Grand Central Place.
232 Madison Avenue
Class B building built in 1925 with 130,000 SF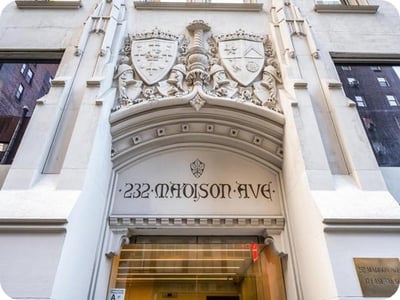 Designed by Polhemus & Coffin, this building became ad agency central when the Mad Man trend began in the 1950s. Today creativity is still the main line of business for tenants occupying all 16 stories. The building underwent renovations in 2009, bringing it back to its original glory. Click here to learn more about 232 Madison Avenue.
Plaza District




Mutual of America Building
320 Park Avenue: Class A building built in 1960 with 730,000 SF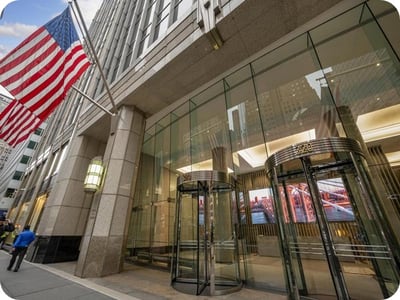 Office space streaming with natural light, stunning views of Park Avenue and Grand Central Terminal, and convenient high-end retail shops and dining venues make this building very rent-worthy. Designed by Emery Roth & Sons and redone by Swanke Hayden Connell Architects in the early 1990s, 320 Park Avenue is LEED gold certified with 35 stories of Class A office space. Click here to learn more about the Two Grand Central Building. Click here to learn more about the Mutual of America Building.
The Crystal Pavilion
805 3rd Avenue: Class A building built in 1982 with 525,000 SF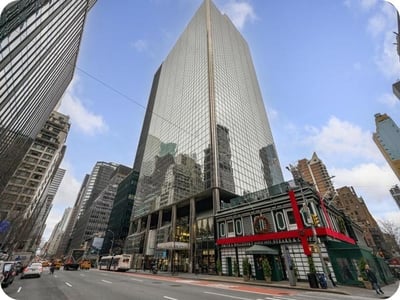 "The Crystal Pavilion" provides 31 stories of office space for a wide variety of tenants from media to publishing and finance to law. Designed by Emery Roth & Sons, the building was recently renovated in 2019 with a new lobby, corridors, and common areas. Views of Midtown Manhattan and the East River add to the building's appeal. Learn more about the Crystal Pavilion.
The Colgate-Palmolive Building
300 Park Avenue: Class A building built in 1955 with 773,056 SF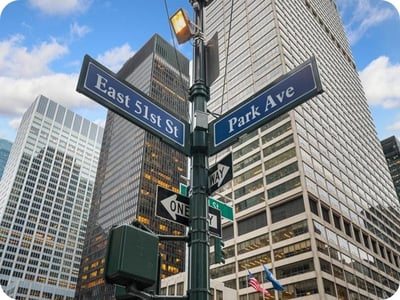 Another Emery Roth & Sons creation, this prominent building sits across from the iconic Waldorf Astoria hotel and boasts views of St. Bartholomew's Church. Home to Colgate-Palmolive, the building features a progressive setback from the 14th floor, with the most recent renovations taking place in 2000, including a new façade and LEED silver certification. Click here to learn more about The Colgate-Palmolive Building.
Standard Security Life Building
485 Madison Avenue: Class A building built in 1929 with 305,675 SF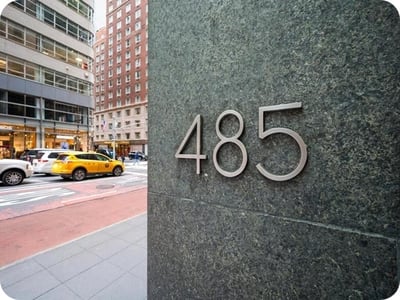 Designed by Architect J.E.R. Carpenter, this 25-story building is close to Fifth Avenue, St. Patrick's Cathedral, and Rockefeller Center, an appealing prospect for financial and medical professionals. Views look out over the city skyline or the Cathedral, and the lobby features Henry Moore's sculpture, "Girl Seated Against Square Wall." Click here to learn more about The Standard Security Life Building.
110 East 59th Street
Class A building built in 1969 with 596,734 square feet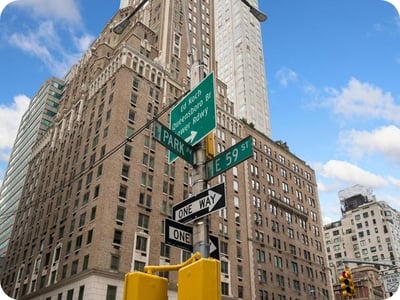 Located in the heart of the Plaza district and designed by W. M. Lescaze, this building projects a high-end image for prominent tenants, including Estee Lauder and Zelnick Media. Views of Park Avenue, Central Park, and the East River and a full-service parking garage underscore the prestige of this highly desirable building. Learn more about 110 East 59th Street.
How do I find the perfect office space in midtown NYC?
Below is a guide to help you consider the most critical factors that impact finding the perfect office space.
Set Priorities
What will be the most critical aspects of your search? Consider the price, location, functionality, amenities, public transportation, terms of the lease, etc.
Submarket Selection
Location considerations include:
The neighborhood's suitability to your industry

Average asking rent

Proximity to transportation

Local amenities for employees, such as coffee shops and places for lunch

Submarket image
The Space
While the features you desire can be tailored to suit your needs, typically, businesses seek the following elements for the "perfect" office:
Spacious workstations/offices for employees

Common areas for break time

Meeting/collaborative areas

A waiting area for visitors

Good flow

Natural light

Airy feel with high ceilings or open concept, depending on your business

Visually appealing

Views

Furnished vs. unfurnished

Scalability
Preferred Workplace Model
Workplace models dictate how much space you need. For example, if your team works 100% from the office, personalized workstations become far more critical and you need more square footage. If you prefer a hybrid model with remote and onsite workers, your focus is on shared workstations, downsizing your space.
Employee Survey
With people spending upwards of eight hours a day at the office, you want to create a workspace that keeps them engaged. Ask your employees what type of office space they desire to help find the right fit for your business.
Partner with a Broker to Gain Market Expertise
It can seem impossible to find space in a city spanning 2,872 blocks, with over 242 million square feet of office space and dozens of micro areas within each submarket. A Tenant-Rep broker offers unbiased representation to help narrow down your choices and acquire the ideal agreement for your office. Their services are free, as the landlord covers their fees, making it an affordable solution to simplify your search.
Do all buildings in Midtown Manhattan offer amenities?
Once considered an extreme luxury only found in the most expensive Class A buildings, office amenities have become incredibly popular as landlords try to lure new companies to their buildings. From rooftop patios and tenant lounges to onsite restaurants, conference centers, and gyms, a variety of different building amenities can be found across most Class A properties. The more extravagant and unique the amenities, the more impact they have on the building's asking price for office space.
Types of Amenities in Midtown Office Buildings
Conference Center

Rooftop Lounges

Basketball Courts

24/7 attended lobby

On-site restaurants

Daycare centers

On-site parking

Fitness centers

Private lounges

Bike storage
Who are the largest office space landlords in Midtown Manhattan?
Below are several of the largest landlords offering office space for lease in Midtown:
SL Green

Vornado Realty Trust

The Related Companies

Tishman Speyer

Durst Organization

Boston Properties

Rudin Management Company

Silverstein Properties

RXR Realty

Brookfield Properties
Do all Midtown buildings have brokers?
While the majority of Midtown office buildings have a dedicated leasing agent hired by the landlord to market their space (a "Landlord Representative"), there are agents who are not associated with any specific landlord or building and work exclusively on behalf of businesses/tenants who are in the market for space (a "Tenant Representative"). In NYC office space brokerage services are available at no cost to the companies they represent as their fees are paid by the landlord. Although the landlord pays the tenant representative's fees, these teams have no association to any building or landlord, so their services are completely unbiased.
Landlord vs. Tenant Representatives for Midtown Manhattan Office Space
Landlord and tenant representatives help their clients meet their goals with services that include:
Landlord Representative
The landlord rep is legally obligated to represent the landlord's best interests. Their job is to market the property to attract tenants and negotiate the best deal and terms for the owner exclusively. Their services include:
Valuing and pricing the property for lease

Improvement and repair recommendations to bring the office space up to a rentable condition (which the lessor may or may not decide to do)

Preparing marketing materials and campaigns

Showing the space

Receiving, presenting, and negotiating offers on the landlord's behalf

Drafting proposals and counteroffers for the landlord

Negotiating the best terms and highest rents for the landlord
Tenant Representative
The tenant representative, it goes to follow, represents the tenant's best interest. Their job is to discuss your needs, find suitable office space to view, and perhaps most importantly, educate you on the leasing process. Once a space is found, your rep negotiates on your behalf to get the lowest rent and best terms. Their responsibilities include:
Managing the property search

Informing you when the best spaces aligned with your needs become available before booking a viewing

Educating you on current lease rates, market conditions, types of commercial properties, submarkets, etc.

Scheduling and taking you on office tours

Drafting lease proposals

Negotiating the best terms and lowest rates on your behalf

Reviewing lease documents

Advising and coordinating things such as construction bids
Transportation hubs in Midtown.
Proximity to central transportation has become a common request from companies exploring office space options. It helps to understand where most of your team needs to travel from so you can help determine what transportation hubs offer the most value.

Below are several of the primary transportation hubs that make office space more attractive:
Grand Central Terminal (Metro-North and Long Island Rail Road)

Penn Station (Long Island Rail Road)

Port Authority Bus Terminal (PATH, Airtrain, and New Jersey Transit)

Times Square Subway Station (MTA)
What are the most popular tourist attractions in Midtown?
As one of the world's most popular destinations, New York City's Midtown Manhattan area is a tourist magnet, with blocks of notable attractions and landmarks including:
Empire State Building
The Empire State Building was the tallest building when it was built in 1931. Despite far taller buildings in the city, it's still the place tourists flock to for the best views of NYC.
Times Square
The lights in Times Square use as much electricity as 161,000 average U.S. homes. That makes a night visit a must. Considered the center of the universe to many, this is also the place to buy tickets for a Broadway show.
Fifth Avenue
A stroll along Fifth includes the Tiffany & Co. window where Audrey Hepburn stood in her iconic little black dress in the opening scene of Breakfast at Tiffanies. Window shopping at Saks Fifth Avenue and Bergdorf's, the lovely façade at St. Patrick's Cathedral, and the Plaza Hotel are a few more sights to enjoy.
Rockefeller Center
During the holidays, this is the place to skate and take a selfie in front of the sky-high Christmas tree. On a clear day, the views from the Top of the Rock are stunning. Radio City Music Hall is just around the corner and worth a visit.
Iconic Landmarks
Grand Central Terminal is a stunning tribute to NYC architecture and a great place to grab a bite at the Grand Central Oyster Bar. The Central Branch of the New York Public Library's Rose Reading Room is another prime example of NYC architecture, while the Chrysler Building at 42nd & Lexington is a stunning homage to NYC Art Deco.
Central & Bryant Park
A stroll through Central Park is a must, as is a visit to the quieter Bryant Park, known for its summer chess players and winter skating rink.
Iconic Shopping in Midtown Manhattan
Macy's Flagship has everything under one roof with mass appeal to the average shopper, while Saks Fifth Avenue appeals to elite shoppers hungry to visit all 10 floors of luxury. It's also a great spot for" lunching" at Cafe SFA.
Dining
Exceptional dining experiences in Midtown NYC range from authentic Korean at Kochi in Hell's Kitchen to sushi at NYC's best-kept secret, Sushi 35 West, and the mind-blowing take on Mexican cuisine at Empellón to mouthwatering steak at Quality Meats. Expect to leave NYC a few pounds heavier.
Who should I reach out to about office space opportunities in Midtown Manhattan?
Whether you're opening your first office, looking to relocate your business, or exploring sublease options in Midtown Manhattan, you've come to the right place.
Representing tenants exclusively in the Midtown office space market, Noah & Co.'s hyper-specialized approach provides our clients with an informational advantage to uncover value-opportunities in real-time.
You know your business. We know Midtown office space.
Have a requirement that you'd like to discuss? You can chat with us below or reach out to our team at: offcespace@noahre.com