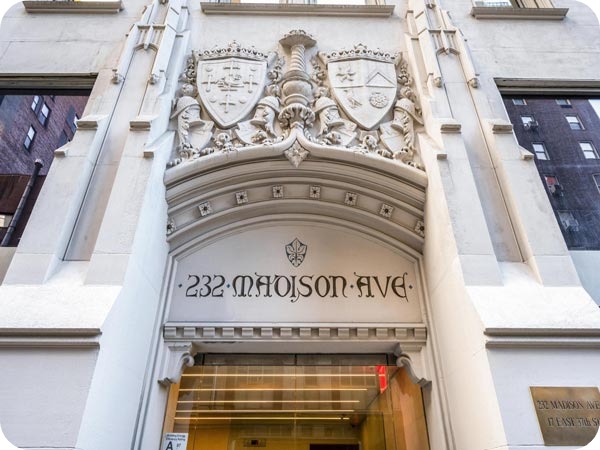 Designed by Polhemus & Coffin, 232 Madison Avenue sits on the site of one of the last standing mansions of Murray Hill. As more tall business buildings cast their shadows on the home Helen Hartley Jenkins inherited from her father, multi-millionaire Marcellus Hartley in 1902, she finally decided to sell, making way for the construction of the 16-story building. The targeted tenants at the time the building was completed included firms related to the silk industry, which later gave way to the Madman era in the 1950s.

The building design creates a neo-gothic façade, combining Gothic and Art Deco influences with notable architectural details of the exterior featuring a two-story stone base, large windows, and columns topped with medieval capitals. Owned by Princeton International Properties, the building underwent renovations in 2009 to painstakingly reveal the building's unusual Deco-Gothic blend, complemented beautifully by thoughtful interior modernizations. Updated windows, elevators, and hallways complete the look of the transformation, and the building's slight height doesn't take away from views of the Empire State Building and Madison Avenue.

Close to exclusive Manhattan hotels such as The Langham on Fifth, Kitano and The William, 232 Madison holds its place among the elite and trendy. Not far from Heralds Square and Grand Central Station, notable landmarks such as the Morgan Library and Museum and friendly local pubs and eateries serving up comfort foods and drinks, like Slattery's and Peter Dillons 36th, make 232 Madison perfectly situated for up-and-coming businesses.

How much class B office space is available at 232 Madison Avenue NYC?
There is a total of 115,945 square feet of office space available in The Murray Hill Building.
What businesses lease office space at 232 Madison?
If you're worried your business isn't what one would consider a "traditional creative," today 232 Madison Avenue is home to a good mix of brands happily challenging the creative stereotype, including:
Euromonde Inc.
Princeton International Properties
Premier Technology Solutions
Remissary
Sid Paterson Advertising
Rob Shore & Associates
WorldWise PR Affiliates
Sorrentino Media
Sourcebooks
What is the average asking rent for office space at 232 Madison Avenue?
The average asking rent for direct space at 232 Madison sits around $60 per square foot. This Gothic-Deco building can save tenants as much as $30 per square foot compared to class-A buildings nearby, although variables of your lease agreement, such as the lease duration, square footage, and requested renovations always influence rents.
Explore The Latest Availabilities In Grand Central.
Public transportation options near 232 Madison Avenue
You will find 232 Madison is close to public transportation, including:
The B, D, F and M trains

Grand Central Station trains 4, 5, 6, and 7 and Amtrak and MetroNorth
Are there any tenant amenities available at The Murray Hill building?
The views of the Empire State Building and Madison Avenue are unexpected perks of life at 232 Madison. It also offers the following:
Attended lobby

24/7 access

On-site property management

How do I lease office space in the 232 Madison Avenue office building?
Although space at 232 Madison is limited, we'd love to help your team find the perfect fit. We'll source relevant spaces, coordinate tours, prepare a proposal, and negotiate the intricate details of your lease with representatives focused on protecting your best interests.

As your representative, we provide the following services:

Managing your office space search

Informing you when the best spaces aligned with your needs become available

Educating you on current lease rates, market conditions, types of commercial properties, submarkets, etc.

Scheduling and taking you on office tours

Drafting lease proposals

Negotiating the best terms and lowest rates on your behalf

Reviewing lease documents
Most importantly, we don't charge for our services!

Curious about what's available? Feel free to chat with us using the widget below or shoot us a note at: officespace@noahre.com

Explore Nearby Buildings with Office Space Available