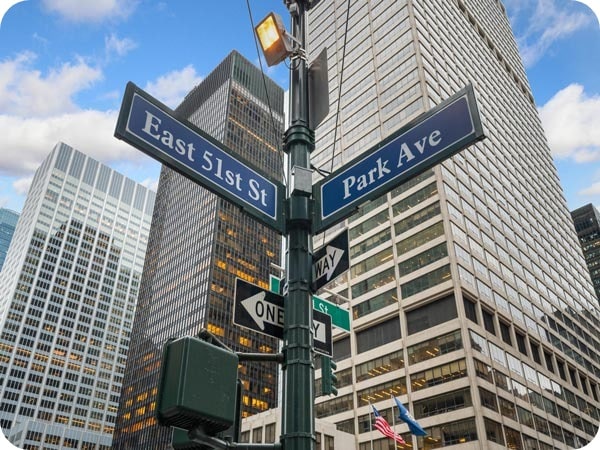 This mid-century beauty is a Class A building located in the heart of the Plaza District. Built in 1955, its prime location across from the Waldorf Astoria quickly established it as an office space suited to the powerful players in New York City. Designed by noted architects Emery Roth & Sons, 300 Park Avenue faced demolition but was saved when the building's namesake Colgate-Palmolive, decided to renew their lease in 2019.

A recent lobby renovation in 2021 introduced a sleek modern look with modular white furniture, stunning marble walls, and matte stainless-steel pillars and elevators. The massive living wall and tropical plants soften the modern angles and create a sense of spaciousness and calm. The building's 14-story base and unusual setbacks at the back of the building create an almost nautical appearance to the façade's prominent outward-facing angle. More substantial renovations in 1998 and 2000 included a new HVAC system, fire alarm, and envelope with high-performance windows, aluminum spandrel panels, and retail space. Green features earned the building LEED silver certification.

The high-demand location in the Plaza District offers convenient access to transportation, including the Grand Central Terminal. High-end shopping at Saks Fifth Avenue, Burberry, The Trunk Club and Louis Vuitton are all within walking distance, and tenants can grab a bite to eat at Duke's Eatery on the main floor or entertain clients at the endless list of dining options nearby, including Casa Lever, Fasano's, and Urban Space.

How much class A office space is at 300 Park Avenue New York?
There is 773,056 SF of office space in the Colgate-Palmolive Building with 26 floors.
What businesses lease office space in The Colgate-Palmolive building?
In hand with Colgate-Palmolive and property owner Tishman Speyer, 300 Park Avenue is home to a diverse collection of sectors with a noted concentration of organizations in finance.

Major tenants include:

Ally Corporate Finance

Chilton Investment Company

GoldenTree Asset Management

Hypatia Capital

VR Advisory Services (USA)

Maxim Group

Nassau Financial Group

Studio by Tishman Speyer

Madison Square

Colgate-Palmolive Company

Element22

Après Group

iSearch

Human Resources International

Apos

What is the cost of an office space lease at 300 Park Avenue?
Expect to see higher asking rents at 300 Park Avenue, reflecting the luxe location averaging between $76 to $93 per square foot. The Plaza District epitomizes prestige, and it will cost you to set up shop here. However, you can also take advantage of lower rents often found through subleases.
Explore The Latest Availabilities In Plaza District.
What methods of transportation are available at 300 Park Avenue?
The Colgate-Palmolive Building is minutes from Grand Central Terminal and subway lines, including the 4, 5, 6, and 7 trains.
Are there any tenant amenities available at The Colgate-Palmolive building?
Renovations in 2000 included a new façade and green upgrades to achieve LEED silver-certification. The lobby was also recently redone with well-appointed modern details suited to the discerning visitors and tenants of the area. Amenities include:
Updated 24-hour security system

Turnstiles with keycard access 24/7

Law library

Conference center

Messenger system

Controlled access

Onsite Property Manager

Energy Star Labeled

How do I lease office space in the 300 Park Avenue office building?
Whether you're opening your first office, looking to relocate your business, or exploring sublease options, you've come to the right place. Representing tenants exclusively in the Midtown office space market, Noah & Co. uncovers value opportunities available in buildings like 300 Park Avenue in real time.
Our representatives offer the following services:
A property search based on your criteria

Booking tours and walking you through the space

Market overview and insights to help you understand what to expect

Drafting the lease proposal

Negotiating on your behalf

Reviewing lease documents

You know your business.
We know Midtown office space.
Have a requirement that you'd like to discuss?
You can chat with us by clicking the widget below or reach out to our team at officespace@noahre.com.
Explore Nearby Buildings with Office Space Available