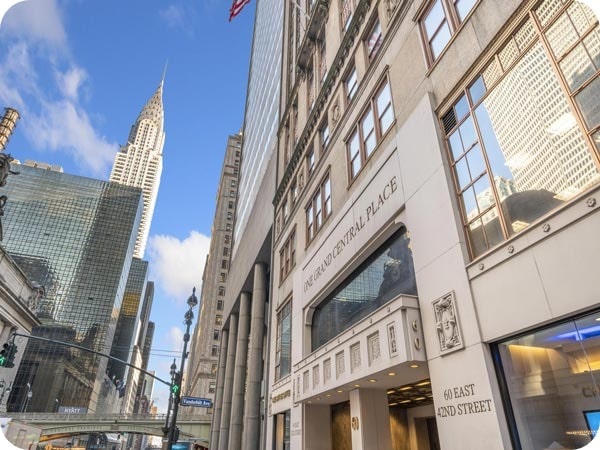 Formally known as the Lincoln Building, One Grand Central Place soars 55 stories over Manhattan with a prime location directly across from Grand Central Terminal. Completed in 1930, the building was designed by John. E. R. Carpenter and incorporates interesting, stepped setbacks leading up to a wide but narrow tower and distinct gothic windows to distinguish this building from neighboring towers. The lobby features the original Daniel Chester French 3′ bronze model of Abraham Lincoln, which was temporarily removed in 2009 and found its way back to its rightful place in 2015.

Today, One Grand Central Place's upgrade program ensures tenants enjoy first-rate infrastructure and an impressive lobby painstakingly restored to its original glory. Now a state-of-the-art building, it combines the best of both worlds with original architecture, a testimony to its origins and upgrades such as new windows, elevators, air-conditioned public corridors, and restrooms that keep up with modern expectations. Building-wide system upgrades to the electrical, plumbing, HVAC, and security and WELL Certification by the International WELL Building Institute complete the building's renovations.

A major attraction of 60 East 42nd is its exceptional in-building dining, including 6b, Pera Mediterranean Brasserie, and Blue Bottle Coffee. The nearby Chrysler Building also offers exceptional dining options, including Capital Grille, alongside onsite services such as JPMorgan Chase Bank and First Republic Bank. Direct connections to Grand Central Terminal via an underground concourse make it easy to reach shopping and dining options without concerns about the weather. Mass transportation rounds up the local conveniences via the concourse, as well as easy access to five subway lines and the Port Authority Bus Terminal. If you meet with out-of-town clients, there are nine hotels nearby, including the Grand Hyatt perched atop the terminal. All in all, an outstanding opportunity you don't want to miss.

How much class A office space is available at 60 E 42nd Street NY?
One Grand Central Place offers a total of 1,315,725 SF of office space on 55 floors.
What businesses lease office space in One Grand Central Place?
You will find an interesting cross-section of industries at One Grand Central Place, with a high percentage of financial services. Tenants include:
Allianz Real Estate of America

Charles Schwab

Pine Brook Partners

3i

GLG

iCapital Network

Johnson Controls

Pfizer

U.S. Holocaust Memorial Museum

What is the cost of an office space lease at 60 East 42nd Street NYC?
One Grand Central Place's average rent is quite affordable, hovering in the mid $60s per square foot (PSF). However, there are many factors that can increase the PSF rates, so they are more in line with Midtown Manhattan's average of $89 PSF, including whether you lease a turnkey or customized space, the floor level, and how long you are willing to extend your terms.
Explore The Latest Availabilities In Grand Central.
What methods of transportation are available at 60 E 42nd Street?
Traveling to and from 60 East 42nd Street offers many direct routes to outlying neighborhoods and common commutes. A concourse passageway leads to Grand Central Terminal, and tenants can access the following:
4, 5, 6, 7 and S subway lines

M101, M102, M103, M1, M2, M3, M4, Q32 and M42 buses

Metro North Railroad

Port Authority Bus Terminal

Are there any tenant amenities available at One Grand Central Place?
This 55-story office tower underwent complete renovations in 2008. Spaces range from 2,200 to 20,000 square feet with many turn-key fully constructed office suites available offering high ceilings, upgraded lighting fixtures, glass-fronted offices and conference rooms. Little details, such as contemporary pantries with stainless steel appliances, are typical perks at One Grand Central Place. Amenities include:
24/7 security and access with a card system

Visitor center

Law library

Messenger center

Shopping and restaurant arcade

Atrium

Onsite banking

Convenient transportation, including underground passage to Grand Central Terminal

Tenant-exclusive conference facility

Tenant-controlled updated HVAC

Office cleaning

New sprinkler system, emergency lighting, and power

How do I lease office space in the 60 E 42nd Street office building?
From sourcing relevant office spaces available at 60 E 42nd Street to coordinating your tours and preparing a proposal to negotiating all the intricate details of your lease, Noah & Co. will represent your best interests.
As your representative, we provide the following services:
Managing your office space search

Informing you when the best spaces aligned with your needs become available

Educating you on current lease rates, market conditions, types of commercial properties, submarkets, etc.

Scheduling and taking you on office tours

Drafting lease proposals

Negotiating the best terms and lowest rates on your behalf

Reviewing lease documents
Interested in discussing your search further? Feel free to chat with us using the widget below
or shoot us a note at: officespace@noahre.com

Explore Nearby Buildings with Office Space Available