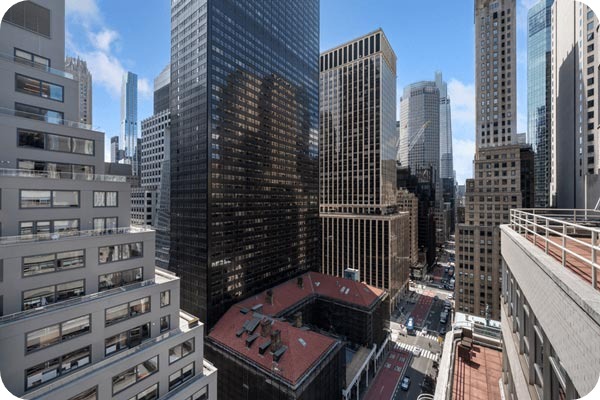 With over 43 million square feet of office space available, Grand Central presents an overwhelming prospect when searching for a place to base your business. This guide offers an in-depth overview of all things office space in Grand Central, explaining why the timing for office space opportunities in this submarket has never been better.
This is the resource for finding the most desirable Grand Central office space available today.
Why is Grand Central in Demand?
Despite the increased availability of office space across NYC, Grand Central has remained one of the most desirable submarkets across Midtown Manhattan. There is an undeniable rejuvenation to the area's energy with the completion of One Vanderbilt, the 93-story supertall skyscraper on the corner of Madison Avenue and East 42nd Street. Additionally, Midtown East rezoning laws have allowed Grand Central building owners to develop new towers and undergo impressive capital upgrades to existing properties, including lobby renovations, mechanical and technology improvements, and ground-level retail space for improved amenities.

The arrival of the LIRR at Grand Central is expected to increase demand for office space in the area even further, with several major tenants already locking in long-term leases with larger space commitments. At the same time, upgraded properties and new developments have added a significant amount of new space to the market, resulting in discounted rents for both direct space and subleases in the submarket. With even more space set to hit the market over the next several years, landlords will continue to market their buildings with aggressive pricing - making it an incredibly advantageous time for companies looking for Grand Central office space.

What buildings and landlords are leasing office space in Grand Central?
Some of the more popular buildings with space available in Grand Central include:
The Helmsley Building (230 Park Avenue)

The Chrysler Building (405 Lexington Avenue)

The Graybar Building (420 Lexington Avenue)

The MetLife Building (200 Park Avenue)

Grand Central Plaza (622 Third Avenue)
Explore The Latest Availabilities In Grand Central.
What types of businesses should consider leasing office space in Grand Central?
Grand Central's convenient location and variety of different buildings make the area a major attraction for businesses across all sectors.
Notable tenants with office space in Grand Central include:
Banking & Financial
JP Morgan (383 Madison Avenue)

PricewaterhouseCoopers (300 Madison Avenue)

Merrill Lynch (200 Park Avenue)

Federal Home Loan Bank (101 Park Avenue)
Insurance
New York Life (420 Lexington Ave)

MetLife (200 Park Ave)
Pharmaceutical
Pfizer (235 E 42nd Street)

Actinium Pharmaceuticals (275 Madison Avenue)
Technology
CMIT Solutions (330 Madison Ave)

GLG (60 East 42nd Street)

L3Harris (600 Third Avenue)
Communications & Media
PHD Media (220 E 42nd St)

OUTFRONT Media (405 Lexington Ave)

ITN Networks (747 Third Avenue)
Just east of Grand Central is U.N. Plaza, home to the United Nations Headquarters and many foreign consulates, embassies, and international non-profits with office space in Midtown. These organizations attract a wide variety of international and global tenants.
What is the cost of Midtown Manhattan office space lease?
The average cost for office space for rent in Grand Central ranges widely from building to building and even from floor to floor based on a number of factors, including:
Availability

Demand

Design of the space

Building amenities

Existing tenants

A landlord's individual finances
Generally, the range of asking prices will differ across the various classes of office space:
Class A: from $65 - $300 per square foot (PSF)
Class B: from $40 - $65 per square foot
Class C: from $25 - $40 per square foot
You can explore the latest asking rents for available office space in Grand Central here.
Leases, Subleases, and Office Space Condos


Keep in mind, the type of office space available will also have an impact on pricing. The most common spaces available include:
Lease: The lease is a direct agreement between you and the landlord, with the majority of terms, including your rent, open to negotiation.
Sublease: Subleased office space is an agreement between you and the current tenant or "sub-lessor." Because the sub-lessor tends to be a bit more motivated than a landlord, you are more likely to make a deal with deeper discounts and more favorable lease terms than direct space for lease within the same building.
Office Space Condo: An office space condo presents an opportunity to buy your office space outright. While the upfront cost may be more expensive, you are afforded complete control over your space and can build equity and earn passive income by renting out portions of the space

Read more about the pros and cons of leasing/subleasing here.
Which Grand Central buildings are best for office space rentals?
With hundreds of buildings situated in the Grand Central area alone, the best office building or space is largely dependent on your business's space requirements and overall budget.
Prestige Spaces:
For well-financed companies exploring high-end space in the $150 PSF or more range, new developments like 1 Vanderbilt or premier buildings like 425 Park Avenue will be at the top of the list. One step down but still among the most expensive options are buildings like 330 Madison Avenue, 475 Fifth Avenue, and 277 Park Avenue
Budget Conscious:
For budget-conscious firms, exploring well-built space in a Class A building like 295 Madison Avenue, One Grand Central Place, or Grand Central Tower (140 East 45th Street) are definite considerations.
Best Value:
Companies exploring the best value options may find success with buildings closest to Grand Central Station such as 270 Madison Avenue or 370 Lexington Avenue. Firms with a bit more flexibility on location will find a tremendous amount of value in buildings along Third, such as 600 or 633 Third Avenue.
Transportation requirements in Grand Central.
Named after the largest transportation hub in NYC, Grand Central is not short on options when it comes to commuting. As a result, the area easily meets the needs of local businesses and visitors alike, with access to much of the convenient public transportation serving New York City:
Metro North: Harlem (New York), Hudson (New York), and New Haven (Connecticut) lines
LIRR (opening in early Q1 2023): service to over 12 different branches in Queens and Long Island
MTA: Subway lines accessible at Grand Central Station include: 4, 5, 6, 7, and SMTA: Buses that travel through Grand Central Terminal include: M101, M102, M103, M1, M2, M3, M4, Q32, and M42
Who should I reach out to about office space opportunities in Midtown Manhattan?
Whether you're opening your first office, looking to relocate your business, or exploring sublease options in Grand Central, you've come to the right place. Representing tenants exclusively in the Midtown office space market, Noah & Co.'s hyper-specialized approach provides our clients with an informational advantage that uncovers value-opportunities in real-time.
You know your business. We know Midtown office space.
Have a requirement that you'd like to discuss? You can chat with us below or reach out to our team at: officespace@noahre.com