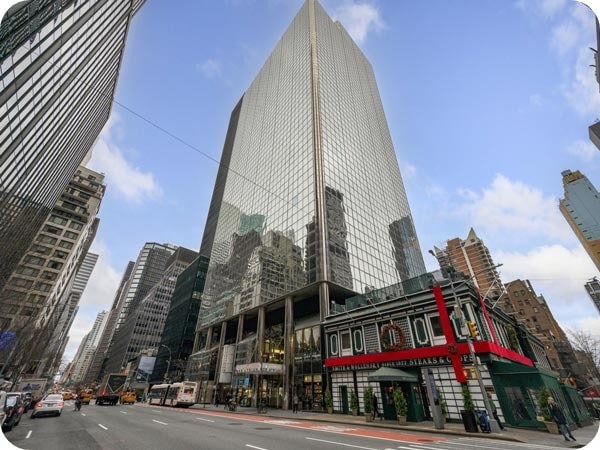 Known for its Class A amenities, the Plaza District in Midtown Manhattan offers approximately 87 million square feet of prime office space, making the search for the ideal space for your business a time-consuming process. This always up-to-date guide provides an in-depth overview of the Plaza District, explaining how changing trends in workplace models and demand for increasingly unique amenities make the area one of the highest-demand submarkets in Midtown Manhattan today.
This informative, comprehensive resource helps you zero in on the most suitable office space in the Plaza District.
Why is the Plaza District in Demand?
The pandemic has created uncertainty for many companies that have found themselves rethinking what their ideal workplace model should look like. What most have realized is that to attract top talent back to the office, they have to invest in quality locations. Running along the desirable south-eastern tip of Central Park, the Plaza District has always been a magnet for professionals and businesses willing to pay top dollar for top-tier amenities, such as first-class dining, onsite fitness, and rooftop or outdoor spaces.

Businesses tasked to provide the incentive for their top-producing employees to give up their remote offices are setting their sights on dynamic areas with first-class "everything" to draw top talent to the amenities they find hard to resist. As a result, there's a major rebound in tenant demand in areas like the Plaza District, where equally rich local amenities such as exclusive shopping and dining experiences are supported by the amenity-rich spaces the Plaza District offers in spades. This explains the resilience of not only Class A buildings but also the increasing demand for Class B turnkey arrangements with attractive lease incentives.

What buildings are leasing office space in Plaza District?
Some of the more prominent buildings with office space available in the Plaza District include: Some of the more popular buildings with space available in Grand Central include:
The General Motors Building (767 Fifth Avenue)

45 Rockefeller Plaza

Trump Tower (725 5th Avenue)



Explore The Latest Availabilities In The Plaza District.
What types of businesses should consider leasing office space in Plaza District?
Some of the most notable tenants include:
Banking & Financial
Bloomberg (731 Lexington Avenue)

Blackstone (345 Park Avenue)

Citadel (601 Lexington Avenue)

Snowden Lane Partners (540 Madison Avenue)
Business Management
Consumer Products
Technology
While polished businesses and professionals across a host of industries occupy much of the Plaza District's office space, some leading tech companies are also finding their way here.

Plaza District: What is the cost of an office space lease?

The average cost for office space for rent in the Plaza District varies based on several factors, including:
Availability/Demand

Design and condition of the space

Building amenities

Existing tenants

A landlord's individual finances

Generally, the range of asking prices for Plaza District office space is based on the building class:
Class A: from $65 - $300 per square foot (PSF)
Class B: from $40 - $65 per square foot
Class C: from $25 - $40 per square foot
Curious about some of the specific spaces available in Park Plaza today? Click here to explore your options.
Leases, Subleases, and Office Space Condos


The type of office space agreements available can also impact price:
Lease: As an agreement between yourself and the landlord/proprietor, your lease terms are open to negotiation. As a result, you can see some pricing opportunities depending on the landlord's financial situation.
Office Lease Plaza District: Subleased office space is an agreement between you and the current tenant or "sub-lessor." The sub-lessor tends to be more motivated than a landlord, which means you can see some deeper discounts compared to leases.
Office Space Condo: The office space condo allows you to buy your office space outright. Although it is more expensive up front, you have complete control over the space with the opportunity to build equity and earn passive income by renting out part of your space.
You can learn about the pros and cons of subleases versus leases here.
Which Plaza District buildings are desirable for office space rentals?
With hundreds of buildings situated within the Plaza District submarket, the best office building or space is largely dependent on your business's space requirements and overall budget.
High-end Spaces:
For businesses without budget constraints exploring space options at the most prominent addresses lead the way, including 375 Park Avenue, 667 Madison Avenue, or 645 Fifth Avenue. A tier below but still among the area's most popular and highest priced office buildings you'll appreciate buildings such as 280 Park Avenue, 510 Madison Avenue, and 45 Rockefeller Plaza.
Price Conscious:
Price Conscious: For firms in need of quality space that won't break the bank, exploring well-built space in Class A buildings like 485 Madison Avenue, 601 Lexington Avenue, and 320 Park Avenue are worth considering.
Best Value:
Companies exploring the best value options may find success with "boutique" buildings in the area, such as 505 Park Avenue, 20 West 55th Street, or 55 East 59th Street. Firms with a bit more flexibility on location will find a tremendous amount of value in buildings along Third, such as 800 or 845 Third Avenue.
Transportation requirements in the Plaza District
This central location offers an easy commute with access to the following public transportation serving New York City: Named after the largest transportation hub in NYC, Grand Central is not short on options when it comes to commuting. As a result, the area easily meets the needs of local businesses and visitors alike, with access to much of the convenient public transportation serving New York City:
MTA: Access to 5th Avenue Station on 59th Street at Central Park as well as the M1, M2, M5, M7, and M57 lines.
Who should I reach out to about office space opportunities in the Plaza District?
Whether you are looking for a new lease or hoping to take advantage of a Plaza District sublease, this is the place to find value opportunities available in Midtown Manhattan office space.

As representatives for tenants exclusively in the Midtown office space market, Noah & Co. uses a hyper-specialized approach focused on market knowledge to uncover office space opportunities in real-time.

You know your business. We know Midtown office space.

Have a requirement that you'd like to discuss? You can chat with us below or reach out to our team at: officespace@noahre.com