What's the single best way to improve a business? That may sound like a silly, gimmicky question, but there's actually one very real answer to it, and I'm not even going to make you sit and read this entire post before giving it to you. The answer, in a word, is time. And no, I don't mean time as in the time that it takes to build up any business venture, or the time you might need to gain skills and experience in a given field. I mean time itself, as a commodity—utilizing it effectively is, hands down, the best way to improve your operation and build your platform.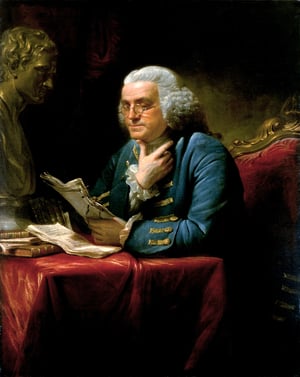 Time is money, the saying goes.
That has always been the case, since long before even Benjamin Franklin used the term. The more time we have at our disposal, the more effective we are able to be. We can produce more, create more, discuss more, develop more. There is no way to understate or underestimate the value of added time.
Time is a Commodity
And yet, for all that time has always been a commodity, it's coming into play in new ways in recent years—in ways that Ben Franklin likely never could have imagined. With the rise not only of the internet and smartphones, which put the world in our pockets and save us countless hours in myriad ways, but also of the gig economy, time has become much more available for many more people. The existence of companies like Uber and Lyft means no longer needing to wait for cabs, and no longer even needing to take the time to call and reserve them in advance. Services like Amazon Prime and Google Express enable us to get the things we want within days, if not hours. Mobile banking has allowed us to move money at the click of a button or the tap of a screen, alleviating much of the need for bankers, tellers, and even ATMs.
This is the world we live in now, and it's the type of experience that people have come to expect, because it's what they receive—in every area, that is, except office space leasing. Traditional commercial real estate brokerage still maintains its methods of decades past, using the same processes, services, and systems as it has for the past twenty years. In a world where both individuals and businesses expect innovation, real estate brokerage has subsisted on the status quo.
A New Reality for Real Estate Brokerage
The cyclical nature of real estate brokerage, with its regular turnover, combined with the emergence of some new technology, has certainly made a dent in this malaise. Even so, multiple prominent brokerages with considerable market share have unceremoniously and abruptly shuttered or quietly "reorganized" within the past six months, simply because they couldn't preserve their profit margins. And in this business, that margin is time. Those who innovate by activating technologies to identify, track, and win business will spend less time finding deals and more time servicing them. In essence, they will have more time for the high-return creative labor, better margins, and most importantly, satisfied clients.
While ambiance and purchasing experience are prerequisites in every other environmentally influenced sale, those expectations are finally catching up to commercial real estate consumption, pushed along significantly by the flexibility and entrepreneurial environment of coworking spaces. The coworking revolution has created a huge value margin for providers, bringing end users a product and purchasing experience that traditional landlords are ill-equipped to provide. The companies providing coworking space have relegated landlords to the role of simply providing the "product," while they themselves create such an incredible service and experience around that product that they are able to justify a significant mark-up in margin.
It's no stretch of the imagination to paint this very picture: A growing company falls in love with a plug-and-play sublease for a great office space in a traditional landlord-owned rental location. It's 5,000 square feet, in a great location, accommodates 40 people, and they secure a rent at 50% below the original asking price because it's a two-year deal. All in all, a great set-up, and one that would probably be three or four times the cost in a coworking suite. Yet the process of signing the lease—negotiating the terms, agreeing on the final terms, drafting the subleases, commenting on the drafts, executing the final contracts, and so on—all takes place at a "lawyerly" pace and price. Before anyone knows it, two months have gone by, a couple months' worth of rent has been spent in transaction fees alone, and only then is the deal done.
To put this in perspective: This same arrangement can be executed with a coworking provider with a simple DocuSign in two minutes. Yes, these providers charge more, but they also provide much more; this is the starting point of their customer-centric approach, which creates outsized margins in this area of the office space market.
In fact, clients are often willing to pay far more for coworking spaces—sometimes three or four times the amount they would pay to more traditional landlords—because these providers know how to operate in a manner that places the clients' needs above those of the landlords'. Coworking providers know how to accommodate businesses, how to expedite processes, how to anticipate needs.
They make things simple, easy, and efficient—and in doing so, they give their clients the gift of time. Instead of wasting hours, days, or even months on tedious paperwork and arduous negotiations, clients can devote their energy to their actual businesses, leaving the aggravation of future space arrangements behind. They can use their time to operate in a way that gives them purpose, intent, and value—which is what they're aiming to do all along.
There is a true real estate revolution happening. A generation of companies that are accustomed to a contemporary style of business for their real estate needs is coming to life, with expectations and demands that mirror what consumers expect in all other industries. And this has implications for the entire market. Landlords ought to start creating systematic ways to process deal execution and force their representatives (i.e. brokers, attorneys, management, etc.) to pick up the pace and keep up with this new world if they want to be able to capture the thicker margins that are out there, ready to be won by anyone offering a smooth and predictable transaction experience.
Adding Value
Our passion as a company is fueled by the limitless opportunity that exists in today's market, for both talent and clients. We recognize that professionals who leverage a platform that utilizes best practices for efficiency and ease will be able to reallocate their time most effectively. But more importantly, we know that clients will soon demand resources to guide their search for economical office space solutions, and that those resources will need to be able to offer the expertise they need to make their experience of finding the right office space simple and painless.
Ben Franklin knew a thing or two about value added, and about spending his time wisely. He also knew a thing or two about putting his money where his mouth was. Another quote attributed to him is:
"Well done is better than well said."
With that, I am going to get back to work, finding ways to make the most of my time and yours. It's all about the efficiency revolution.
If you would like to learn how we can put the efficiency revolution to work for your organization's commercial real estate needs: