Open-plan office space is on the rise, and studies revealing the deleterious impact of open-plan office space on employees are on the rise as well. Ideally, open-plan spaces would offer not only cost-related benefit and flexibility, but enhanced opportunity for communication, teamwork, and creativity. Unfortunately, this is not the case; it's imperative to consider the effect of your office layout on your business's productivity before your next move.
Many studies reveal how widely disliked open-plan offices are due to a lack of privacy and increased disturbance from others, a sense of depersonalization and low status, feeling exposed and scrutinized and, perhaps most importantly, negative health and wellbeing outcomes.

Morrison & Smollan (2019)1
The primary issues with open-plan office space are intuitive but frequently ignored; auditory and visual distractions increase stress, hinder performance, and give rise to mistakes, wasted time, and fatigue.2 Morrison & Smollan (2019)1 completed a study comparing qualitative survey data from questions regarding an original office space to a secondary space which incorporated changes designed to affect perception of open-plan office space. These questions addressed physical space, interpersonal relationships, productivity, and privacy.
Physical Space
People feel positively about having the option to use easily accessible private space as needed. Collaboration and meeting rooms, hydration stations, team tables, storage space, etc. are crucial to have in some abundance. Additionally, equality of individual workstations (e.g. junior staff and administrators occupying space of similar size and scope) was met with positive reception; people felt others were more approachable which resulted in more immediate communication. In terms of office space decor, the introduction of foliage was met with negative feedback in contrast to the overwhelmingly neutral feedback found in other literature. "Greening," as it is referred to, can benefit a space if it is done properly—this entails limiting the overall number of plants to avoid insects and removing dead or withered plant matter.1
Interpersonal Relationships
Overhearing conversations is perceived positively when the context of the conversation confers information or benefit to the listener—irrelevant or personal conversations detracted from the work experience. People have the ability to hear discussions about issues they may be able to solve or can jump in on a conversation to provide insight. Getting to know fellow coworkers is made easy with an open plan.1
Productivity & Privacy
Pressure and accountability increase when people can see you working, when you arrive, and when you leave. While feelings of being watched heighten, consistency of work and efficacy of time management improve as well. Distractions become far greater in frequency and can limit productivity, but there are solutions to remedy this downfall of open-plan office space. In terms of coping strategies, many will wear headphones to limit and dampen auditory distractions. This is particularly powerful because it enables the auditory experience of a private space while working in an open-plan layout. People often utilize collab rooms for calls or simply finding temporary personal space. The ability to have privacy when it's desired is paramount.1
Conclusion
Open-plan office space needs to be executed with strategy and intent to create the most enjoyable experience for all employees. The annotated floor plan from the aforementioned study can be found below.
If you believe an open-plan layout would be ideal for your business, talk to your broker about employing a strategy to promote and maximize productivity, innovation, and ideation.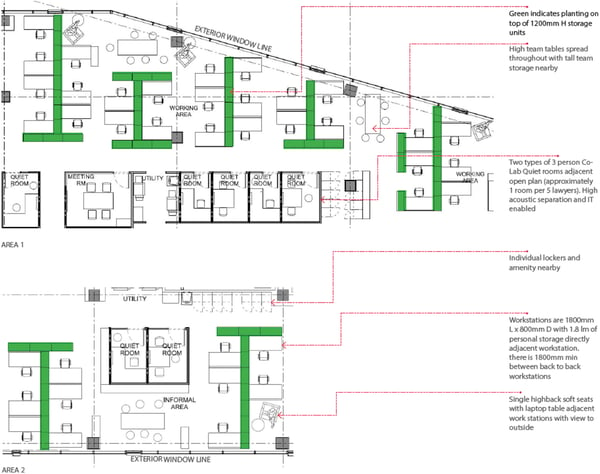 1 Morrison, R. L., & Smollan, R. K., 2019. Open plan office space? If you're going to do it, do it right: A fourteen-month longitudinal case study. J. Applied Ergonomics, 82 (2020), pp. 1-16.
2 Roper and Juneja, 2008. K.O. Roper, P. Juneja. Distractions in the workplace revisited. J. Facil. Manag., 6 (2) (2008), pp. 91-109.